Welcome to College of Home Science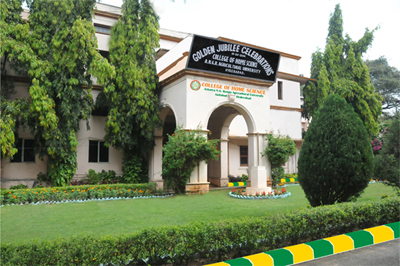 The Faculty of Home Science is one of the faculties of Prof. Jayashankar Telanagana State Agriculture University (PJTSAU). As per the Land Grant Pattern of United States adopted by ICAR for improving the quality of rural life, formerly it is under Andhra Pradesh Agricultural University (APAU), from the year 1964 to 1996 and later Acharaya N.G. Ranga Agricultural university till 2nd September 2014. At present it is notified under PJTSAU as per " ANGRAU Act 1963 (Telangana Adptation ) order 2014, vide act no..43 of 2014, dated 3rd September 2014".
The faculty has two campuses-College of Home Science, Saifabad, Hyderabad and Post Graduate & Research Centre Rajendranagar. B.Sc(Hons.) Home Science & B.Sc (Hons.) Fashion Technology are offered in College of Home Science, while B.Sc(Hons.) Food Science & Nutrition along with FDNT PG Programmes is at PG & RC. Other PG Programmes are offered at College of Home Science.
From Deans Desk
Community science (previously well known as Home Science) discipline is an education built with scientific understanding of community concerns, humanistic & social values, technology, and skill base to improve the quality of life of people at large and vulnerable groups in particular.

B.Sc. (Hons.) Community science degree programme is four year professional course recognized by ICAR. Introduced by College of Home Science, Saifabad, Hyderabad from the year 2016-17, it provides an opportune stage for students to learn core courses linked to development of community viz; Foods and Nutrition, Human Development and Family studies, Apparel Design and Textiles, Resource Management and Consumer sciences, Extension education and communication Management. Further they can pursue PG and PhD degrees with specialization in the above subjects.
At present, the faculty has the following Academic Programmes.
UG programmes
PG programmes - M.Sc
PG programmes - Ph.D.